Post by Madam Mim on Aug 7, 2017 20:36:11 GMT -5
Player Name:
Christy
Age:
30
Other Characters Played:
Gadget, Peter Pan, Robin Hood
How You Found Us:
NA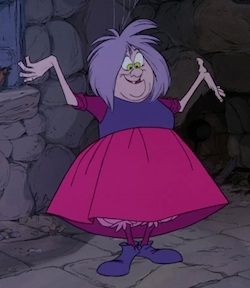 Character Name:
Mim
Type of Creature:
Witch
Rank:
Force of Evil
Movie/TV Series:
The Sword in the Stone
Home Island:
Isle of the Sword
Powers, Skills, and/or Any Other Abilities:
Madam Mim is a witch and as such she can wield a great deal of black sorcery— so much that even Merlin himself took her seriously as an opponent. She is capable of performing a wide variety of spells, from withering a small flower to turning herself into a huge fire-breathing dragon. Mim can also disappear and reappear across short distances as well as summon objects (like her broom) seemingly from thin air. With her broom she is also able to fly.
Her primary (and favorite) magic is shape shifting. She can use this ability to change her form at will, without exuding any effort or energy to do so. She can become quite tiny or huge, ugly or fair, animal, plant, or mineral. She uses this power to tease (and torture) helpless victims that may wander past her cottage. Whatever form she may choose to take, it should be noted that said form will always be some shade of pink or lavender. For example, if she were to become an elephant, it would not be an elephant's natural gray but bright pink with a purple tuft on its tail.
Mim may be mad, but she does possess a certain degree of cunning when it suits her needs. During the wizard's duel with Merlin, Mim lays out the rules of the game but builds in a loop hole for herself, allowing her to overcome Merlin by becoming a purple dragon, which was not expressly forbidden by the rules (although to be clear she wasn't very concerned about breaking the rules to begin with).
Backstory:
NA
Canon History:
Mim's story began when a little sparrow fell down her chimney. Mim had been playing a game of solitaire at her kitchen table when she heard the little thing sneeze. She lifted it out of the soot and the bird explained to her that he was not really a bird at all, but a boy named Arthur who had been transformed by Merlin, the world's greatest wizard.
Hearing this, Mim scoffed. Merlin was nothing compared to her: The Marvelous Mad Madam Mim! Mim set out to prove to Arthur that she was far superior than Merlin could ever be. She showed him many of her best spells and tricks, but in the end the bird/boy hesitantly insisted that Merlin was better, because his magic was used for good. Mim deduced that Merlin had used his magic on Arthur because he saw good in the boy, and that, in her book, was BAD. She decided to eat Arthur, but would give him a sporting chance. Mim then turned into a fat pink cat and proceeded to chase the bird around her cottage.
Mim managed to catch her prey, but Merlin arrived in a whirlwind before she could destroy him. This lead to a "Wizards Duel" between the two great mages for the boy's life. After calling out the rules, Mim and Merlin proceeded to change into different animals in an attempt to better the other. Merlin eventually gained the upper hand by becoming a goat to push Mim off a cliff. Mim, however, broke the rules (or found a loop hole, depending on who is telling the story) and transformed into a dragon. At that point it seemed as though she had won, but Merlin outsmarted her by becoming a tiny germ and giving her a cold.
Merlin and Arthur helped Mim back to her cottage and got her in to bed with an ice pack and an open window to let in plenty of sunshine. They left her howling there about how much she hated them and the sun and germs. That was the last she saw of Merlin for some time.
Game Information:
Mim eventually got over her sickness and was able to go about her business of being a witch (and playing countless games of solitaire). For a good long time she stayed in her dark and dreary corner of the forest, but she sensed the magic changing around her when Camelot merged with Rohandor. That made her curious. What was happening out there?
Now she wanders from realm to realm, picking on those weaker than her and vernally causing chaos whenever possible. She has heard of dark powers returning from beyond, and is very interested in meeting them. After all, wouldn't they be honored to meet the Magnificent, Marvelous, Mad Madam Mim?!
Anything Else:
Mim loves games. She can't resist them. Of course, she will then do anything she can to win. She is dishonest and calculating, so be careful!
Mim loves all things morbid and dark and hates all things wholesome and bright.
Mim is extremely overconfident. She is rarely impressed with anyone but herself. She believes she is the best and absolutely loves being evil.
OOC:
In the Donald Duck comics Mim was in love with Captain Hook! WHAT.
In a tavern on the Isle of the Rose, an old hunter swore to his friends that he'd seen a
pink
raccoon in the woods. On the Isle of the crown, there were rumors of a vicious violet bear. A fuchsia eagle was seen soaring high above the Isle of the Tower. In the Isle of the Mountain, a girl told her mother that a pink sheep had joined their flock. A dog catcher made report of a purple cat in the Isle of the Statue, believing that perhaps some kids had dipped the mangy thing in paint. Those who saw it were seldom believed. Those who were could never seem to find the creature again.
Currently, a ratty-looking magenta owl was perched in a tree outside a pub called The Snuggly Duckling. Inside a very drunk man was singing a song about the kingdom's new princess. If the story in the song was to be believed, a witch had kept the girl locked up in a tower for sixteen years! Oh it was absolutely dreadful and Mim
loved
it. What a spectacularly wicked thing to do!
Everywhere she went throughout this strange land she heard hushed names and whispers of evil plots and dark purposes. She particularly liked the story about a witch trying to murder a princess with an apple. Another had tried to murder a girl with the spindle of a spinning wheel. A sorcerer had become a giant snake to devour a princess. A sea witch had stolen a girl's voice and then her true love. Oh it was all so wonderfully foul.
Of course all of these plots had ultimately come to an end, but Mim usually stopped listening by then. That part of the story was all the same and sickeningly sweet. Happily Ever Afters left and right! True Love! Friendship! Faith! Trust! Childlike wonder! It was absolutely revolting.
Above all else, one thing stood out to Mim: to get any kind of notoriety or fame for yourself a witch had to kill a princess! ... And luckily for Mim, Rohandor seemed to be
crawling
with them.
The fat pink owl flapped down to the ground and transformed into a tall leggy woman with flowing purple hair, a sharp pointy nose, and a short purple dress. She flicked her hair back over her narrow shoulders, swayed her hips experimentally, and adjusted her amble bosom. There. Perfect.
Mim pushed open the door and strode in to the pub. When the pianist saw her his hook slipped far to the right across the keys. A man throwing darts took his eyes off the board and struck a man's huge stomach instead. All of the kingdom's most brutal, sick, and sadistic men frequented this bar and none of them had seen a woman like this before.
Mim put her hands on her hips and smiled around at all of them. "Now now, boys! Don't stop all the fun on account of little old me!" Mim could make herself beautiful and she could make her voice smooth and pure, but inside she was still the same old witch. Because of this, she would never be as beautiful was a true princess, but she was shapely enough to get the attention of these men. They were thieves and cut-throats and they had surely traveled far and wide.
Mim was positive one of them would be able to tell her where to find a princess. Why, by this time next Tuesday everyone in Rohandor would know and fear the name of Mad Madam Mim!
Application Fee Information
First Character?:
No
Character(s) Paying Fee:
Peter Pan
By posting this application I am acknowledging that I have read all the
Information
provided and agree to abide by the rules and regulations of the forum. I also agree that all forum documentation as well as templates and plots created specifically for HEA will remain property of the Happily Ever Afters forum and that any graphics provided for me by HEA will not be used on any other forum.