Post by Jack Skellington on Aug 20, 2017 18:54:00 GMT -5
Player Name:
Christy
Age:
30
Other Characters Played:
Gadget Hackwrench
,
Peter Pan
,
Robin Hood
,
Madam Mim
How You Found Us:
Google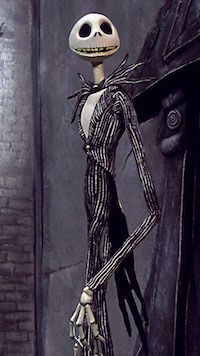 Character Name:
Jack Skellington
Type of Creature:
Skeleton
Rank:
Force of Good
Movie/TV Series:
The Nightmare Before Christmas
Home Island:
Isle of the Crown
Powers, Skills, and/or Any Other Abilities:
Jack Skellington is a living skeleton and therefore undead. Because of this, he is very difficult to kill. He could be set on fire, fall from extreme heights, separated into different pieces, submerged under water for long periods of time and still come out unharmed. The only way to actually kill him would be to grind him to dust.
While Jack is a skeleton with no muscles, he is nevertheless quite strong, fast, and agile. He is able to lift heavy objects and displayed a great deal of gracefulness and coordination during his fight with Oogie Boogie.
Jack embodies the Spirit of Halloween much in the same way Santa embodies the Spirit of Christmas. As such he is a master of all things frightening and macabre. He is able to scare anyone, should he put his mind to it.
Jack is also the Pumpkin King and rules over Halloween Town and its surrounding land. It is his duty to protect and serve his people. He cares a great deal for each and every one, which was seen when he carefully provided a special job for everyone when the town attempted to take over Christmas. He is a patient leader and a gentleman who very rarely loses his temper, though if you threaten his people or his loved ones he will defend them and administer justice with focused determination.
Jack is definitely ruled by logic. He is extremely smart and creative, which helps him come up with new and exciting things for Halloween every year. He does, however, have difficulty intercepting other's feelings. He was oblivious to Sally's feelings and concerns for him for much of their friendship and also did not realize Santa's obvious distress when Lock, Shock, and Barrel kidnapped him. Jack has a childlike wonder and is a little bit naive, but his heart is always in the right place.
Backstory:
NA
Canon History:
For countless years Jack Skellington led the people of Halloween Town through wildly successful Halloween celebrations, each one more horrible than the last. However, as time went on, Jack began to feel an emptiness inside himself that he could not quite explain. He no longer felt delight or excitement in his work and sank deeper and deeper into despair, fearing that he would never find what was missing.
After one Halloween, Jack took a walk and wandered through the Hinterlands, trying to discern just what was wrong with him. Eventually he stumbled upon a grove of trees with doors that led to different Holiday Towns. Drawn toward the Christmas Tree door, Jack went through and found himself in Christmas Town. At once he was amazed and mystified by what he saw there.
After exploring, Jack returned to Halloween Town with a number of Christmas artifacts. He locked himself away in his home and began to obsessively research Christmas, attempting to find out why it made him feel warm and content. Eventually, Jack decided that he wanted to share Christmas with his people and he set about 'improving' the holiday with their help. Only Sally had doubts about what Jack was trying to do, but he politely dismissed her worries and went on with his plans, confident that they could do Christmas better than Santa.
Jack ordered Lock, Shock, and Barrel to bring Santa to Halloween town so he could rest while he took over delivering presents on Christmas Eve. Dressed as Santa, Jack began to do just that, but the 'unique' gifts the people of Halloween Town created quickly drew the wrong kind of attention. Jack was shot out of the sky and crashed into a graveyard. There, Jack finally wrestled through his identity crisis and reaffirmed himself as the Pumpkin King.
Determined to save Christmas (which he himself had nearly destroyed), Jack rushed back to Halloween Town to find Santa. He discovered that Oogie Boogie held Santa and Sally captive and, after a heated battle, Jack managed to defeat Oogie save them both. Santa returned to his world to fix Christmas, leaving Jack and Sally alone. In that moment, Jack began to realize that what he was missing had been right in front of him all along, in Sally. Before he could say as much, however, they were interrupted by the Mayor, Lock, Shock, and Barrel and freed from Oogie's layer.
Jack returned to Halloween Town with Sally, where it had begun to snow for the very first time. While the townspeople celebrated Jack's return and the snow, Jack followed Sally to the spiral hill in the pumpkin patch. The two of them confessed their feelings and shared a kiss.
Game Information:
After the Christmas fiasco, Jack refocused his efforts on Halloween and his role as the Pumpkin King. With Sally by his side, he led the people of Halloween Town through many very successful Halloweens. When Halloween Town was transported to Rohandor, Jack was at once instantly curious about the strange lands and peoples in the kingdoms beyond the Pumpkin Patch. While he has traveled through these places on Halloween, he is very interested in exploring out-of-season, though given the trouble he caused last time his curiosity ran away with him, he is a bit reluctant.
Anything Else:
Jack's pet is a ghost dog called Zero. He often follows Jack around town on business.
OOC:
NA
Jack Skellington rubbed at his skull with his skeletal fingertips as he bowed his head forward over his desk. It's surface was littered with papers, both drawings and notes as well as stacks of dusty old books. After a few moments, the empty socket's of Jack's eyes opened and he looked up at the massive chalkboard hanging on the wall.
He stood and crossed the room with one arm bent behind his back. He squinted at the notes he'd carefully written there before reaching for the chalk. With a few graceful turns of his wrist, Jack drew an apple. He stepped back to survey his work before reaching behind to the desk. He picked up a book, turned a few pages, and ran a bony finger along the text.
"…. Mummy dust. Black of night. Old Hag's cackle. A scream of fright. Wind. Thunder. mhmm." Jack turned the page. "The victim of the sleeping death can be revived only by Love's First Kiss." Jack's eye sockets blinked, his wide skeletal smile shrinking down into a perplexed frown. "Love's first kiss?" He turned his head to peer out the window. Out across the square he could see the little house where Sally lived. He suddenly wanted to ask her if she knew that kisses could be magic.
In his bed by the hearth, Zero gave a little growl in his sleep. Jack turned away from the window and gave a weary sigh. It was late. Sally was sleeping. The entire town was sleeping, even the vampires. Only the Pumpkin King was awake now, pouring over his books. He snapped the book closed and brushed some dust off the cover, revealing faded gold lettering.
Grimm's Fairy Tales
. The stories inside were familiar, like a half-remembered dream. Jack had gone forth through Rohandor for many Halloweens now but… this book made him curious.
He felt a familiar itching in the back of his skull, a nagging that he had not felt since he'd first found Christmas Town. There was more out there, beyond the pumpkin patch and the forest. New things. Things that Jack very much wanted to discover.
Jack put the book back on his desk and turned away, his hands clasped loosely behind his back. "Oh Zero. What am I doing? Didn't I learn this lesson already?" The ghost dog twitched and woke up, his red nose glowing brightly. Jack shook his head and descended the stairs, his head bowed, his skeletal brow pinched in doubt.
Application Fee Information
First Character?:
No
Character(s) Paying Fee:
Gadget Hackwrench
By posting this application I am acknowledging that I have read all the
Information
provided and agree to abide by the rules and regulations of the forum. I also agree that all forum documentation as well as templates and plots created specifically for HEA will remain property of the Happily Ever Afters forum and that any graphics provided for me by HEA will not be used on any other forum.