Dodger
Mar 17, 2018 19:05:16 GMT -5
Post by Dodger on Mar 17, 2018 19:05:16 GMT -5
Player Name:
Daryl
Age:
31
Other Characters Played:
Basil, Xanatos and Tarzan
How You Found Us:
Invitation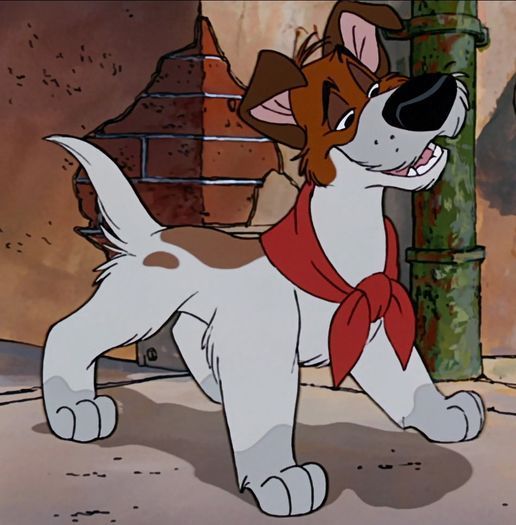 Character Name:
Dodger
Type of Creature:
Dog (Jack Russel Terrier)
Rank:
Force of Good
Movie/TV Series:
Oliver and Company
Home Island:
Isle of the Statue
Powers, Skills, and/or Any Other Abilities:
Street savoir-faire: Dodger's greatest skill is his ability to 'feel the rhythm' of an area and use it to his advantage. He can travel quickly or evade pursuit by leaping on vehicles or moving objects, using improvised pathways or dropping obstacles on his enemies. All done with an easy going attitude that leaves pursuers frustrated as seen when he made his way across a busy New York street with stolen sausages while the cat Oliver was left soaked by a hydrant, splattered with fruit and fuzzed up by a vent blast.
Canine skills: Dodger has the abilities of any other reasonably fit dog. He can run fast, bite hard and dig quickly. In addition living on the streets has made a scrappy fighter out of him, able to handle a few opponents at once with a hit and run style.
Leader of the pack: Dodger has established himself as the top dog among Fagin's pack. He inspires loyalty, gives the same to his friends and keeps them sharp by sharing his experiences, plus the odd wrestling match. When working with a newbie however, he may keep the reward for himself and consider his tutelage enough of a payment for them.
Thief: To make ends meet and help his master Fagin pay back the loan shark Sykes, Dodger has become a skilled thief. After finding an unaware target, or causing a distraction, he can snatch their valuables and be on his way to making an escape before they notice (or at least have enough of a head start if they do notice).
Fast talker: When faced with trouble that he can't run from, such as the regular visits from Roscoe and DeSoto when Sykes comes for his payments, Dodger tries to calm the situation with his charm, convincing his enemy to take any wrongs as a joke. Similarly he has a good chance of talking the unwary into going along with one of his schemes.
Backstory:
One of many stray animals on the streets of Manhattan. After fending for himself for some time and building the skills he needed to survive Dodger was taken in by the petty criminal Fagin along with a group of other dogs.
Dodger quickly established himself as the top dog of the gang (most likely given the spot by the more sensible Rita) and frequently led them to pay back his master by swiping food and valuables. At some point Fagin got into deep debt with a big time criminal known as Sykes and the dogs had to put in the extra effort to help him. Unfortunately their eagerness didn't make up for the lackluster loot they gathered owed in part to their lack of ability to tell what was actually valuable enough to put a dent in the debt.
Canon History:
On one of his fundraising excursions, Dodger encountered a stray kitten named Oliver who had been chased off by a hot dog cart owner while begging for scraps. After reassuring the cat that he didn't eat anything furry, Dodger offered his tutelage on feeling the beat of the streets and using that to get an edge on others, in this case getting a free meal. Oliver was quickly thrown in the deep end as Dodger faked chasing him, confusing the cart owner and ending with the pair victorious and carrying off a whole string of sausages. Dodger however made off with the full string, offering Oliver only the lesson and the honour of working with him as a reward. In a frantic chase across the city the dog easily stayed one step ahead of the tenacious young cat, frustrating Oliver with his aloof attitude.
Back home at Fagin's barge, Dodger regaled his friends with a tale of how he outwitted and defeated a massive monster to get food for the group. Oliver had managed to track him down though, dropping in and panicking the dogs before the level headed Rita calmed everyone down and determined the truth. Dodger brushed off the mockery of his 'monster' turning out to be a kitten, eventually provoking a dog pile with the others to show he was still on top. Soon Fagin returned, having only a few seconds to inspect the days takings before Syke's dobermans summoned him.
The dobermans, Roscoe and DeSoto, stayed behind to bully the group. Dodger tried to brush them off until they caught sight of Oliver and intended to make a snack out of him. When the kitten scratched DeSoto Dodger and the gang stood up for him, staring down the attack dogs until their master summoned them. Unfortunately the debt was being called in, Fagin had three days to repay in full.
The next day the dogs took Oliver with them, inducting him fully into the gang and showing him the ropes of their operation. While trying to steal a car radio from a limo Tito was blasted by an electric shock and Oliver was captured by the humans inside the car.
Dodger and the others track down the limo to a mansion, intending to rescue their newest member. After evading what they thought was a violent torturer (in actuality a butler) the group infiltrates the house and Dodger encounters a spoiled poodle named Georgette. While initially offended that she isn't the centre of attention (especially that someone would break in and NOT want to kidnap her) Georgette brightens up on finding out that the street dogs are looking for Oliver, helping them 'rescue' the kitten.
Back at the barge Oliver finally explains that he was adopted by a young girl living at the mansion, offending Dodger who thinks that his new friend has been spoiled and now looks down on the strays. Despite brushing him off and demanding he leave a returning Fagin sees the opportunity to solve his problems by ransoming Oliver back to his new rich owners. Dodger accompanies him to a meeting with Sykes to explain how he intends to pay the loanshark off that night, but an impatient Sykes sets Roscoe and DeSoto onto Dodger, beating the dog as a warning. Later Dodger brushes off the beating unconvincingly, insisting that he was never touched once in the fight.
Unluckily the payoff meeting reveals Oliver's new owner to be a little girl named Jenny. With her parents constantly travelling she had noone to turn to and was attempting to rescue Oliver by herself. A heartbroken Fagin offers to call everything off and return the kitten but Sykes reveals that he was eavesdropping on the meeting nearby and abducts Jenny, intending to gain a much larger payoff than he would by extorting Fagin. Dodger, Oliver and the dogs mount a rescue.
After a few near misses, the group manage to rescue Jenny, only to be confronted by an enraged Sykes and his dogs. Fagin manages a lucky escape by crashing into the building with his scooter and loading everyone up before retreating into the subway. Sykes makes for his car and pursues, apparently in too deep with the kidnapping to risk arrest and intending to silence the witnesses. During the chase Oliver is accidently thrown into the car during a collision, necessitating Dodger to leap after him. The dog and kitten back each other up against the doberman's, knocking them onto the electrified rails before jumping back to the scooter. Sykes continues his mad chase, only to perish as a train crashes through his car. Oliver is accidently thrown into the Hudson during the explosion, but luckily survives to the relief of the group.
The next day, Fagin and the gang visits Jenny for her birthday. While Fagin bonds with the butler Winston over televised sports and Tito freaks out after Georgette attempts to clean him up to make him a more suitable boyfriend Dodger makes up with Oliver, with both eager to visit each other in future and the cat outwitting the dog with his own high five paw trick. With a farwell, but not a goodbye, Fagin and the gang ride off into the streets with Dodger leading them in song.
Game Information:
With Sykes out of the way Fagin has (at least until the loan shark gains his inevitable revival and escape from the Forever Stone) been freed from his debts giving Dodger and his gang time to get out into the new world and explore. New experiences, new rewards, new rubes and a whole lot of people eager to meet the baddest Dog in New York.
Anything Else:
Personality:
Dodger is a smooth, fast talking, tough guy, casanova, master thief, king of the streets. Or at least he is in his own head. While he does have talent and physical ability to hold his own most of his adventures don't end there. He'll take a minor encounter and spin it into an epic that he can brag about for hours to his friends, even when he's caught in a lie he'll play it cool and try to turn the subject to the next thing on his mind. This same short minded bravado can cause Dodger to leap right into dangerous situations without any further planning in mind, relying only on the belief in his own abilities that he'll come out safely. When things do go wrong he'll hide failure or injury behind a smile and insist that things could have gone worse even if it's clear to others how bad they actually went.
Despite what others think of him, Dodger instantly assumes that everyone he meets will be impressed by him. Any signs to the contrary and they're just trying to hold by their enthusiasm for being in his presence.
Due to his constant 'cool' behaviour, he tends to bottle up his true feelings. It is common for Dodger to mask fear, sadness, heartbreak, or anything that makes him seem vulnerable. When his ego can't cover for him he may resort to lashing out in anger as seen when he fears Oliver is leaving the group to stay with his new owner Jenny.
He displays full loyalty to his friends, standing up for them against any trouble and willing to do anything to help them. For others he first meets though he sees people he can use to get what he needs and then split with the lion's share of his prize. However if the same person he just tricked can prove themselves in some manner then he'll give them the same loyalty that any of his friends get.
Between living as a stray and living with the petty thief Fagin, Dodger has gotten used to the idea of a rift between the haves and have nots. In his mind the rich or greedy tend to use others and have only themselves to blame when Dodger or the others manage to steal from them, once again a free lesson is their reward for being tricked. While he'd be willing to give the upper classes a chance if they prove themselves in some way, he'll feel abandoned if a friend prefers the high life to sticking with him.
Weaknesses/Flaws:
Dog: As a normal, non magical animal Dodger has the disadvantage of no thumbs or fingers, so most of his carrying capability is in his mouth or whatever he can loop his tail through. While he can use his tail for some tasks he does not have the dexterity for anything complex.
Stray: Doubling the prejudice against him, as a street dog Dodger will be shunned from entering certain places, especially those of a higher social standing. He may need to rely on stealth in these areas to avoid being kicked out or detained.
No concept of currency: Despite how eager he was to help Fagin, Dodger and a few of the other dogs had some difficulty determining actual valuable items. Occasionally they'd come back with money or car radios but not enough to pay off Sykes steep loans. Similarly magic items would be useless to him without proper instruction and a simple method of use.
Biting off more than he can chew: While fast and a good fighter, Jack Russell's are not the largest breed. Dodger should try to stick to one opponent at a time and even then may want to consider flight over a fight he cannot win.
Bridge burner: Given his tendency to use others for his own gains (unless they befriend him later) Dodger may be off putting to others. Similarly his attitude and ego can be off putting to people smart enough to see past his flashy persona.
Anything Else:
Voiced by Billy Joel.
Always seen with a red bandanna around his neck and occasionally a pair of sunglasses
OOC:
Missed the post check for Dodger and looking to pick him up once more. Willing to pick up any prior plots if any players are still interested.
A few days prior, Dodger had came back to the docks and presented the gang with a whole bag of pilfered foods, but not the usual hot dogs, burgers and pizzas. He'd found french pastries, San Fransokyo Sushi and more besides. The pack had tucked in but their illustrious leader was tight lipped about the origin of his haul, content to bask in the adoration. When the buffet had finally ran out though he agreed to show them the source of his new treasure trove, or rather they wouldn't let him go off alone until they saw it for themselves.
"The Dodge promises and the Dodge delivers. In and out all day and night. Any corner of the world and back before anyone notices you're not there. I'm talking exotic locations, more food than you can finish in one lifetime and a whole lot of rubes ready to hand over their unprotected coin purses to whoever dares to go for it."
The pack, Dodger, Rita, Tito, Einstein and Francis, made their way along the New York waterfront looking back and forth at the many different people going back and forth from the ferries that travelled around Rohandor. Merchants from Agrabah, knights from Camelot, living toys, animals walking upright in human clothing, even superheroes right out of a comic book.
"Allow me to exposition my proposition." Dodger stepped in front of the group and strutted back and forth, half military leader and half peacock. "We pick a ferry and get our taste of the new world. Of course if anyone is unable to get onboard, unlike a master of espionage such as myself, I'll make sure to bring you back a present and show what you're missing."
"So where you guys going?" Tito bounced, trying to keep his head high enough to get attention. "I'mma go to the Copper Kingdom. Get in touch with my Aztec roots Mang."
"Aww, and I thought you were taking Georgette to Italy." Rita put one paw onto the Chihuahua and ruffled his fur, easily keeping him pinned down and unable to fight back.
"London. Paris. Sampling the finest cultures." Francis closed his eyes, already at his destination in his own head.
"We could go to New York. See the Statue of Liberty" Einstein looked excitedly at a stack of brochures intended for the arriving tourists, the pack didn't correct him on seeing how eager the hound was.
"Why limit ourselves to one or two trips dudes and dudette?" Dodger climbed up a stack of cargo crates and swiped a sailor hat from a passing ferry crewman. Flipping it onto his head and staring towards the ocean, striking the pose of a dog ready to make his mark on the world. "With all these boats going in and out all day we can see everything. Do everything, stop for lunch and do it all again."
The sailor returned, glaring at the Jack Russell for stealing from him. Dodger responded by licking the man's cheek and scrambling further up the crates while the human struggled to follow him. With a precise rocking motion the top of the pile tumbled to the dock, leaving a stairway to safety for Dodger to escape onto the nearest ferry before it cast off. The gang laughed and cheered seeing their leader once again evade capture, their lack of need for thievery hadn't softened him up any.
"To wherever the wind blows. and wherever that is can get to meet the coolest thing on four legs." He howled and tapped his paw to the motion of the boat, feeling the first of many new beats. "I'm street smart. I got New York City heart!"
"Why should I worry? Why should I care?"
Application Fee Information
First Character?:
No
Character(s) Paying Fee:
Basil
By posting this application I am acknowledging that I have read all the
Information
provided and agree to abide by the rules and regulations of the forum. I also agree that all forum documentation as well as templates and plots created specifically for HEA will remain property of the Happily Ever Afters forum and that any graphics provided for me by HEA will not be used on any other forum.