Post by Robin Hood on Oct 18, 2016 19:33:02 GMT -5

..:: Player Information ::..
Player Name:
Christy
Age:
29
Other Characters Played:
Peter Pan & Gadget
How You Found Us:
Google
..::
Character Information
::..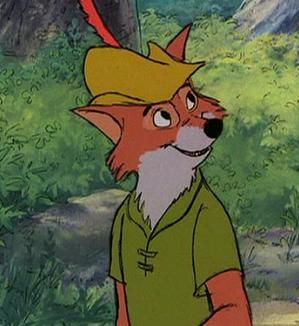 Character Name:
Robin Hood
Type of Creature:
Anthropomorphic Fox
Rank:
Force of Good
Movie/TV Series:
Robin Hood
Home Island:
Isle of the sword
Personality:


The foundation of Robin's personality is the heart of a hero. He will always choose to do the right thing, no matter the cost. Robin has always been someone who naturally protects others. He will go to great lengths to fight injustice and protect the weak, going so far as to be labeled an outlaw and give up all his inheritance and lands. He is selfless and will always choose to put others' needs before his own.
Robin is very resourceful and quick-thinking. When working to steal money from the rich, he uses his wits to construct clever plans and only uses physical confrontation as a last resort. These plans often play to Robin's fair for the dramatic. He is a very capable actor and has been known to take on a number of different characters to trick his targets. His costumes and acting abilities have allowed him to play a female and even other species convincingly, which not only helped him rob from the rich but to move around town without being captured by the Sheriff's men.
Robin is also very charismatic and makes friends easily, which, along with his noble deeds, won the love of the Merry Men and the people of Nottingham. Robin Hood is extremely loyal to his friends, especially those who became outlaws with him.
Robin's nature is lighthearted and deep down he is a romantic. He fell in love with Maid Marian when they were both young and she had his heart for years. He would often daydream about her. When they were finally reunited he proposed, despite all the challenges and obstacles that would keep them apart (chiefest among them his status as an outlaw, of course).
This said, because Robin is so skilled with a bow and so often comes out on top, he can sometimes be a little arrogant and too sure of himself. For example, despite Little John's warnings, Robin went to the archery tournament where he would be virtually surrounded by Prince John's thugs. Robin was distracted by the knowledge that Marian would be there, but he was also completely confident that he would win and get away with a kiss.
Powers, Skills, Strengths, and/or Any Other Abilities:


Archery: Robin Hood is the finest archer in the land, which he proved at Prince John's archery tournament. Not only was he able to hit every target (while dressed as a stork), but he was even able to out-shoot the Sherif of Nottingham, who was cheating. There is no one better with a bow.
Woodsman: After becoming an outlaw, Robin and his men were forced to live in Sherwood Forest, in hiding. Robin became very familiar with the vast forest. He is able to track, navigate, and hide in the woods with ease.
Cunning: Robin Hood made a name for himself by tricking Prince John and the Sheriff of Nottingham again and again. He is able to come up with elaborate, daring plans often in a very short amount of time.
Acting/Disguise: Robin often got into character to accomplish some of his schemes. He dressed as a blind beggar to move around Nottingham without being captured. He dressed as a fortune teller to steal gold form Prince John and he dressed as a Stork to compete in the Prince's archery contest, just to name a few. Not only does he dress for the part, but he also employs different gestures and voices.
Swordsmanship: Robin is very adept with a sword, able to fight off many assailants at once, even if they are quite a bit larger than he.
Fox Anatomy: Robin is a fox and therefore has a heightened sense of hearing and smell.
Weaknesses/Flaws:


Lady Marian: Robin's lady wife is his true love. He would do anything for her.
Selflessness: Robin Hood became an outlaw because the people of Nottingham needed someone to stand up to Prince John. Robin Hood became that person. When someone else is in danger or in need, Robin will never hesitate for the sake of his own safety.
Ego: Robin is very good at what he does and he knows it. This can sometimes lead him to act recklessly. For example, he strolled right up to Prince John's caravan completely outnumbered, because he was confident his skills and his cleverness could get him out of trouble.
The Cultured Life: Robin is still acclimating to live as a Noble once again. He was always far more suited for the life of an outlaw, but now he has responsibilities and duties that he must carry out. He was always confident in the woods, but as a Lord he constantly second-guesses himself.
Cooking: Robin is an atrocious cook. Don't leave him alone around the camp fire.
Canon History:
Robin Hood was the son of a lord but grew up with noble and common children alike. Growing up, he was close friends with Marian. As they grew older, the two of them fell in love. However, before they could be more than sweethearts, Marian moved to London. Shortly thereafter, King Richard went on Crusade and his younger brother, Prince John, usurped the throne. He began to heavily tax and oppress the people, especially in the town of Nottingham, where the evil Sherif delighted in tormenting the poor people.
Seeing the plight of the poor people of Nottingham, Robin took a stand. He began raiding wealthy travelers through Sherwood Forest. He would take their gold and distribute it to the poor. Before long Robin was joined by other men of similar beliefs, including Little John, who became Robin's best friend and second in command. These robberies soon got the attention of Prince John and the Sheriff of Nottingham. Robin Hood was made an outlaw and a bounty of 10,000 pounds was put on his head. However, the people so loved Robin Hood and his Merry Men that none of them would turn him in for the bounty.
Years passed. One day Robin learned that Prince John would have an archery tournament and that Maid Marian, who had returned to Nottingham, would give a kiss to the winner. Robin, who was still in love with her, leapt at the opportunity to see her again. Disguised as a stork, Robin went to the tournament, hit every shot (despite the Sherif's attempts to cheat) and won first place. However, Sir Hiss had discovered his true identity, and just as he was about to accept his prize (and kiss) from Marian, his true identity was exposed. Robin was put in chains and sentenced to death. As the executioner approached, Little John "convinced" Prince John to let Robin go. A battle broke out between the Merry Men and the Prince's soldiers. During the fight, Robin proposed to Marian and the two of them vanished into the forest with the rest of the common folk. That night the people of Nottingham celebrated and made a mockery of the prince with songs and puppets.
When Prince John learned how he was being made a fool of, he raised taxes even more. People were unable to pay and soon most of Nottingham was chained in his jail cells. Even Friar Tuck, who refused to let the Sheriff take money from he Church's poor box, was thrown into prison. As a trap for Robin Hood, Prince John sentenced Friar Tuck to hang at dawn, knowing the rogue would come to save the holy man.
Robin concocted a clever plan for a jail break before dawn. Friar Tuck and all the citizens of Nottingham were saved and a great deal of Prince John's gold was stolen at the same time. However, the portcullis was closed before Robin could escape and he was forced to fight his way free. The battle culminated at the top of the castle, which had been set on fire during the fight. Robin had no choice but to leap into the moat. For a moment, he was presumed dead, and Prince John rejoiced. However, Robin soon surfaced and Prince John was left without prisoners, gold, or castle.
King Richards returned from the Crusade and corrected the evil done by his brother. Robin was pardoned. He and Marian were married.
Game Information:
When King Richard returned from Crusade, he pardoned Robin of his crimes and restored his titles and lands. Essentially, Robin is now the governing lord of Nottingham as well as all the land of Sherwood Forest. Robin is a dedicated lord and does his best to bring justice and safety to his subjects. While the castle is being rebuilt, Robin lives in the house formerly occupied by the Sheriff of Nottingham, which is the largest house in the town.
However, the edges of his lands have changed. The people in the village whisper about magic. Robin has never been one to believe in magic, but he has seen for himself that his borderlands have changed. What other explanation is there? Perhaps it is time for him to venture forth and find out for himself.
Anything Else:
Robin loves kids. He and Marian hope to have 'a dozen at least.'

..:: Sample Post ::..
Robin heard the hedgehog calling for him and winced, his ears askew.
Lord Robin! Lord Robin!
Perched outside the window, Robin felt a moment of guilt. He rolled his eyes upwards and considered climbing back in the window to hear the day's long list of duties: reviewing plans for a new bridge over Sherwood Stream, the projections for the harvest, letters from London, etc etc etc. Each item would of course be important to the health and future of his little province, but certainly none of it needed his attention this very second (no matter how Master Hodge might huff).
Robin's eyes moved to the cloudless blue sky and for a moment he closed his eyes and felt the breeze. No. By God, today he was taking a holiday. The fox climbed hand over foot down the ivy growing along the stone wall and dropped soundlessly into the street below. Then he stole along the wall to the stables, wrapped a stable boy's cloak over his narrow shoulders, pulled up the generous hood, and slipped easily into the foot traffic flowing past the manor.
Robin let his feet carry him down the familiar streets of Nottingham, his thoughts on other things. Eventually his feet took him into the forest, along well-loved paths, and then off the path entirely. As he moved under the dappled light, he felt himself come alive. Duty, honor, and love would lead him back home at the end of the day, but perhaps a little bit of his spirit would always remain here, under the trees, where there was absolute freedom.
His people no longer needed an outlaw. They needed a Lord. Robin resolutely put himself to this duty because he loved them all and wished to better their lives, if he could, but some days he felt completely useless. He was used to the instant gratification-- take gold, give gold-- not the tiresome business of law and governance. Thank God for Marian, who always seemed to know how to lighten his spirits.
Thinking of his wife, a full smile spread over Robin's maw. Oh, she'd let him have it for sneaking off, leaving her to deal with Hodge and all the rest, but he'd make it up to her.
For just today... he was Robin Hood once again.
---
..::
HEA Member Agreement
::..
By posting this application I am acknowledging that I have read all the
Information
provided and agree to abide by the rules and regulations of the forum. I also agree that all forum documentation as well as templates and plots created specifically for HEA will remain property of the Happily Ever Afters forum and that any graphics provided for me by HEA will not be used on any other forum.
---