Sally
Oct 27, 2016 11:25:33 GMT -5
Sally Force of Good

Posts:

90


Likes:

70





Played By:

Grim



Member is Offline

For it is plain as anyone can see. We're simply meant to be.
Post by Sally on Oct 27, 2016 11:25:33 GMT -5

..:: Player Information ::..
Player Name:
Grim
Age:
22
Other Characters Played:
Grimhilde, Fox, Persephone
How You Found Us:
Jen!
..::
Character Information
::..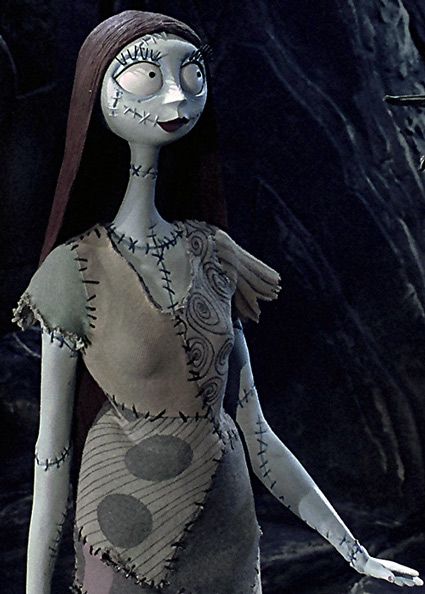 Character Name:
Sally
Type of Creature:
Ragdoll
Rank:
Force of Good
Movie/TV Series:
The Nightmare Before Christmas
Home Island:
Isle of the Crown
Personality:
Sally is somewhat of an enigma amidst the normal denizens of Halloween Town. One point in particular that shows this is her more introverted and passive nature. She is soft-spoken, does not like to draw attention to herself and can be quite timid at times, which contrasts greatly with the verbose and flamboyant personalities of her fellow townsfolk. Sally would rather observe and assess than push into the thick of things.
Other points that makes her unique in her township are her sincerity and capacity for compassion. Sally takes much less delight in scaring people, probably due to her radical upbringing and the denial of her participating in Halloween, specifically if it is in a cruel or callous way. She also has a fair ability to empathize with others and foresee how her action or inaction may affect other people. Sally is a caretaker, and shows this through her natural inclination to help others, even and especially when that help doesn't bring attention to her.
It may be only natural that the creation of a person as undeniably genius (if a bit mad) as Dr Finkelstein would in turn have a nimble mind. She has the capacity for academic knowledge, as seen with her learning and retaining the nuances of potion-brewing. Sally is also clever, with the ability to improvise as well as craft schemes in advance that normally reach some level of success. She's sly enough to play upon others' belief of her innocence to further her agenda, and is very resourceful.
A lifetime spent watching the goings-on of Halloween Town through her window objectively have groomed Sally into a very pensive woman. Just as her introverted temperament is rare in Halloween Town, so too does her inherent pragmatism set her apart and is a product of the life she's lead since her creation. In the words of Santa Claus, "she's the only one who makes sense around this insane asylum!" Sally is sensible and tactful, and her surprisingly sound sense of judgment, in spite of her sheltered and short life, makes her a voice of reason and caution. Perhaps as a result of these traits and her paranormal origins, Sally has been known to have premonitions and even visions telling of the future. She felt something was deeply wrong with Jack's plan to steal Christmas even before she had a vision about it.
Powers, Skills, Strengths, and/or Any Other Abilities:

Physiology - Sally is as unique a specimen as any you'll find in Halloween Town. She is a sentient ragdoll created by the township's resident mad scientist, Dr Finkelstein. As such, the various portions of Sally's person are held together by thread and she is stuffed with dead leaves. She is impervious to pain and harm in many of its forms, and her body is still within her control and can behave remotely even when not sewn to the rest of her, such as when her hands scaled a piece of rope to untie Santa Claus.

Potions - In Halloween Town, using bizarre but commonplace ingredients (Frog's Breath, Worm's Wart and so on) to craft potions or elixirs is as mundane or sometimes synonymous as cooking. In any account, Sally has a natural penchant for brewing mixtures that have varied uses. She competently used Deadly Nightshade to put Finkelstein to sleep several times and knew what ingredients to use to mask its taste and aroma. More impressive, Sally can bottle potions with much more serene and restorative purpose than usually seen in Halloween Town, evidenced when she concocted a unique draft for Jack while he was locked in his home.

Seamstress - Sally is arguably the most talented seamstress in Halloween Town. She is able to create most any costume or outfit if she has access to the right materials, as well as mend and darn any garment that is damaged within reason. Sally carries a trusty needle tucked away in her hair as well as string on her at all times, mostly in case she needs to sew herself back together unexpectedly.

Cleverness - She has a quick and agile mind, going so far as to exploit Finkelstein's belief that she is innocent and blameless as well as Oogie's crudeness by distracting him with one of her legs. Sally can go to unorthodox and cunning means to reach a desired end.

Pragmatism - Sally has a sound head on her shoulders. Her judgment is usually wise and thoughtful, and her thoughts, which balance compassion with pragmatism in a way few can claim to do, make her simultaneously practical and sensitive.

Visions - She has had premonitions before, whether they be in a gut feeling that she can't shake, or even once in the form of a full-blown vision of a future that inevitably came about. This ability is most probably thanks to Sally's origin as one of Finkelstein's creations; most of which have unexpected side-effects of some sort or another.

Agile - Sally's tall and slender frame allow her to be more swift and agile than most.

Empathy - One of her most admirable traits is her ability to put herself in another's shoes, care sincerely for people even if she doesn't know them well, and determine how her own actions or the actions of others will affect others.
Weaknesses/Flaws:
Adamant - In spite of her quiet nature and compassionate heart, Sally has a very determined will. If she wants something, or believes a course of action needs to be discouraged, she'll go to lengths that put her in blatant danger to facilitate them.

Natural enemies - Sally is impervious to many forms of harm and pain, but she's not invincible. Flame, specifically, is a weakness for Sally because, as a ragdoll stuffed with dead leaves, she is highly flammable. She likewise avoids water, because getting wet would make her more prone to falling apart.

Component parts - The various pieces of Sally's being are held together by thread alone. She can come apart (intentionally or accidentally) very easily, and then needs to sew herself back together to be whole again. At times, even parts of Sally have been held hostage.

Soft-spoken - Sally has trouble speaking up. Her voice, though one of reason and mental fortitude, can be drowned out in the more palpable personalities that live in Halloween Town. She doesn't press points when she probably should.

Monster - Though distinct from other townsfolk, Sally is still a spirit and patron of Halloween and a citizen of the holiday's town. She has little concept of cultures or social climates outside of Halloween Town. She doesn't fully comprehend how many of Halloween Town's customs and areas of universal delight could be in poor taste or even unsettling to outsiders. Also, Sally's status as a living ragdoll might cause her to be shunned or even feared by others.
Canon History:
Sally was created and given sentience by the mad science of Dr Finkelstein in Halloween Town. The doctor treated her both as something like a daughter and also as his prize masterpiece. The fierce over-protectiveness that sprang from this meant that Sally was carefully guarded by Finkelstein, rarely allowed out of his lab - and only when accompanied by him - because the doctor worried what the excitement of Halloween Town might do to her.
Sally went about her responsibilities and indebtedness to Finkelstein like a dutiful creation; cooking and cleaning for her creator and his assistant, Igor. Her culinary pursuits lead to an interest in the mixing of potions, which she had natural talent for from the offset, learning much on her own and without guidance. Sally also honed her craft as a seamstress, stemming from the simple daily maintenance that she needed. Jack Skellington paid Dr Finkelstein regular visits in the business of planning Halloween, and Sally admired him very much, coming to quickly count him as her dearest friend and harbor romantic feelings for him.
She watched Halloween Town prepare for their namesake holiday from her window and grew increasingly restless with her life as it was. Sally implored the doctor for more freedom time and again but he was adamant that she remain carefully shut away. Without recourse, and having grown no small amount of resentment toward Finkelstein, Sally began slipping deadly nightshade into his meals in order to have chances to escape into Halloween Town on her own. Above all, Sally wanted to enjoy in the festivities of Halloween with the town and witness Jack in his element.
Drugging Finkelstein on that fateful night, Sally joined the crowds in their reveling. The doctor quickly found her when the prizes were being announced, but Sally loosed the strings of the arm he held fast and, leaving it with him, fled into the cemetery. There she eavesdropped Jack's lament and resonated so deeply with his weariness of his present life that she fell more deeply into her romantic adoration of him. Sally had no choice but to return to Dr Finkelstein, who had her missing arm. She was repaired, but slipped deadly nightshade into his soup as soon as possible and fled into Halloween Town in time to attend the town-wide meeting that Jack called.
Sally was intrigued by the things from Christmas Town that Jack demonstrated, but left the meeting feeling deeply unsettled; that something was wrong with all of this. When Sally returned to Finkelstein's laboratory next, he locked her in her room as punishment for her repeated breakouts. Jack paid Finkelstein a visit for supplies to run experiments relating to Christmas, which Sally heard through her door. She quietly fixed him a gift basket and escaped through her lofty window to hoist it to his window with a rope, though she fled before he could thank her. Afterward, Sally had a dark premonition of Christmas going horribly wrong. When Jack burst from his seclusion claiming that this year, Christmas would be Halloween Town's for the taking, Sally fretted even more. She tried to explain her foreboding to Jack, and convince him to abort his plans, but couldn't pierce his enthusiasm.
Halloween Town began working toward Christmas in earnest and Sally was given the responsibility of creating Jack's Sandy Claws suit. She worked away at it over the thirty-odd days leading up to Christmas, all the while fearful of what was to come, and evading Finkelstein. When Christmas Eve came Lock, Shock and Barrel arrived having finally succeeded in kidnapping Mr Sandy Claws. Sally realized that things were even worse than she'd thought, and was forced to take desperate measures. Stealing into her old room in Finkelstein's laboratory, she secretly collected some Fog Juice she'd hidden in her room and, pouring it in the town fountain, created a dense mist to discourage Jack from taking off. Zero's luminous nose was just what was needed to light the way through the fog though and Jack took off regardless.
Sally could only watch Jack's progress in anxious fear in the witches' cauldron. When things started taking a bad turn, Sally believed that Sandy Claws was the only one who could save Jack and set off to find where Lock, Shock and Barrel had put him. Sally found Sandy Claws in Oogie Boogie's lair and tried to save him, but was caught herself. She and Sandy Claws were subjected to Oogie's sadistic games of loaded chance. They were about to perish when Jack miraculously appeared, saved them and defeated Oogie Boogie.
Sandy Claws departed to fix Christmas and Sally believed for a moment that Jack was looking at her in a new light - the same one that she'd secretly viewed him in for some time. He didn't have the chance to say anything before they were interrupted by the Mayor and both returned to Halloween Town. While Jack set things to rights with the townsfolk, Sally went to be by herself in the cemetery. There, on the hill overlooking it and the pumpkin patch, Jack found her and they finally confessed their love for one another, each finding what they were missing in the other.

Game Information:
Since Halloween Town was transported to the magical land of Rohandor, Sally has dutifully supported Jack in his endeavors each year to bring about the best Halloween possible to the various Isles each October 31st. She has also secured her own apartment in Halloween Town and works for the townsfolk as a seamstress and potion brewer at need. She's accompanied Jack on each Halloween, though she spectates more than participates in the scaring of mortals. As such, Sally's seen a fair share of the different sites and spots in Rohandor, but not in a genuine sense. She's interested in visiting some locales while not on business, and seeing how the people of Rohandor behave when they're not being scared on Halloween night.
Anything Else:

Sally carries with her a needle, behind her right ear and thread at all times.

Her favorite animal is a cat. She's a friend to every wily feline that prowls the shadows of Halloween Town.

Sally enjoys picking dead flower petals as a pastime and finds it cathartic.

Sally is ambidextrous.

..:: Sample Post ::..
The Jack O'Lantern sun was a quarter done with its journey across the orange skies when Sally appeared. She emerged onto her doorstep with an empty basket slung on one arm. Sally closed the door behind her and locked it with a large, ornate key that looked suspiciously to have been carved out of bone. Down she moved at a leisure pace into the central square and when she passed the zombie band, the severed head in Jim's bass counted them off and they began a melody both mournful and elegant.
Sally smiled at the musicians and the saxophonist, James, took a measure's break to speak to her. "Morning, Sally. Where you off to on this frightful day?" She pivoted on the spot, continuing her progress but walking backwards to face the sax player. "Foraging," Sally said pleasantly, showing the empty basket as evidence. "I'm running low on some essentials, and I want to make something special for Jack tonight." James nodded and returned to his playing. Sally went on her way.
When she slipped through the gap in the town gate, Sally realized that she was stepping in time to the dirge following her on the air from the band, and humming along gently. Jack had been working so hard lately, with Halloween less than a week away, and she felt like she hardly ever saw him. Sally tried her very best to be supportive and encouraging about it all, and was sincerely glad that Jack appeared so enthused by that year's preparations, but she quietly fretted he might be pushing himself too hard.
That evening he promised he'd be back in time for supper, owing to the fact that the Mayor had a terrible cold and wanted to turn in early to try to get better before the big day. Sally had considered offering to brew the Mayor a tonic that would deal with the cold, but hearing that it was the reason she'd actually have dinner with Jack made her decide she'd wait until the following morning to offer her services (something she still felt a little guilty at withholding). She was still humming when she entered the graveyard and knelt by a wild clump of Nocturne Nettle, selecting which ones she would pluck.
---
..::
HEA Member Agreement
::..
By posting this application I am acknowledging that I have read all the
Information
provided and agree to abide by the rules and regulations of the forum. I also agree that all forum documentation as well as templates and plots created specifically for HEA will remain property of the Happily Ever Afters forum and that any graphics provided for me by HEA will not be used on any other forum.
---